Realstars is an independent non-profit organisation founded in 2010 by Malin Roux Johansson. The organisation strives to achieve a better world free from sex trafficking. RealStars work both nationally and within the European Union through campaigns and advocacy. We illustrate our message of Fair sex through design, art and fashion.
RealStars believes in the equal value of every individual and in everyone's right to freedom.
RealStars fights for the realisation of Fair sex for everyone. This implies sex on equal terms, with respect and without violence and coercion.
RealStars works on three different levels: 1) We influence society and push the EU to form legislations against sex trafficking. 2) We collaborate with corporationsin order to integrate human trafficking issues in corporate social responsibility efforts. 3)  We engageindividuals in our work for Fair sex through campaigns and school collaborations.
In partnership with other brands and chains, RealStars aims to produce products for the Fair Sex. Since 2013, we established cooperation with marketing managers and Caroline af Uggla to engage companies in the Business Against Trafficking. For example; they can buy Caroline af Uggla board for the benefit of the work against trafficking. Also, RealStars has initiated Fashion for Fair Sex so that consumers can contribute to Fair Sex by buying Fair Sex garments and accessories. In 2011, the Swedish designer Johanna Brag designed a pattern tights and leggings, shown at Röhsska shop and showroom. We have previously collaborated with t-shirts and recently Junkyard developed a unique Fair Sex collection of dress, tights, linen and t-shirts. See more on our web-shop and junkyards website.
Mission
Our mission is to be a positive force striving for a better world and a Europe free from sex trafficking. RealStars is inspired by the so called Swedish model. This model implies that authorities seek to fight the demand for these services. The Sex Purchase Act is here seen as a crucial tool for achieving equality.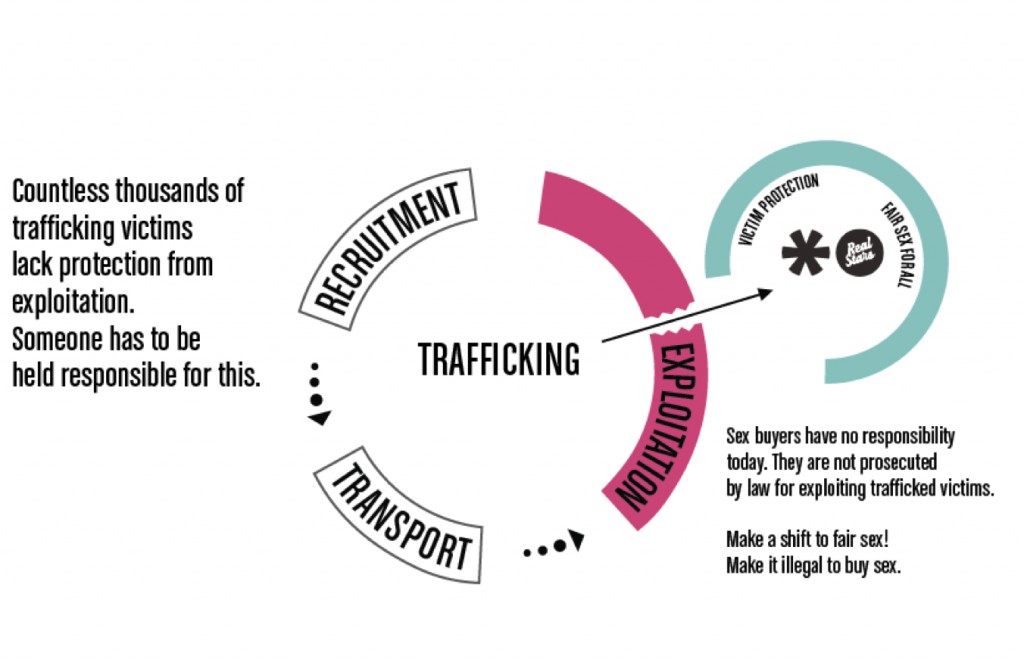 To illustrate our model, have put together this model of trafficking chain, recruitment, transportation and exploitation. A lot of focus lies on the two initial phases with way too few actors working to stop the actual exploitation. We argue that the best way to reduce the demand is to hold the buyers responsible for their actions and this is something we work hard to achieve. Prostitution leads to increased trafficking. If the buyers' actions are criminalized the demand will consequently be reduced. This is an effective way to prevent trafficking and protect the victims. Fair Sex must include everyone.
Cooperation with Companies
RealStars develops through support and counseling from various corporations and organisations. In particular, we would like to thank And Now For, A-ramar, Arkitektkopia, Bloggbyrån, BRAG-designhouse, Damn Good Agency, Elanders, Photographer Anna Sigvardsson, Göteborgs Tryckeriet, Hey it's Enrice Pallazzo, Kreab Gavin Andersson, Lindex, Macforum, Marknadscheferna, MAQS Law Firm Advokatbyrå, Novappeal, Paradigm Strategic Communication, Raglady by Tara, the Röhsska Museum, Museum of World Culture and Webbverkstan.
We have started the Business Against Trafficking initiative where Marknadscheferna has founded a CSR project. This project has involved artist and singer Caroline af Ugglas whose exclusive painting can be bought by corporations wishing to support the initiative against trafficking in Europe. Companies that want to support our cause can become "RealStars friends" and thereby combine entrepreneurship with corporate social responsibility. In a world where trafficking and human exploitation are increasing, it is significant to highlight this topic. Learn more here. RealStars are the founders of the quality marking "Hotels Against Trafficking".
Cooperation in networks and platforms
RealStars is involved in the European commission's platform against trafficking in Brussels for the civil society. It was launched in May 2013 with the main purpose to involve nonprofit organizations in the commission to eradicate trafficking. RealStars collaborates with multiple NGO:s within the platform and in the EU.
RealStars cooperates with Swedish organizations in the initiative "Swedish Platform Civil Society against Human Trafficking". One goal is to improve the coordination of the social aid provided for the victims exploited in trafficking for sexual purposes.
RealStars works with Swedish organizations to act for a sustainable tourism. Thereby RealStars is one of the organizations in the network for "Schyst resande".
RealStars is a part of the network for the Anna Lindh foundation (ALF) – an intergovernmental initiative. The foundation is a part of the Barcelona Process initiative for intercultural dialogue, and consists of networks within the European Union and the Mediterranean region.
About the Founders
RealStars' main founder is Malin Roux Johansson along with co-founder Emmanuel Roux. Together we have experience from both business and international organisations. We wanted to do something meaningful with what we have learned through the years and the result is RealStars – an initiative that raises and sheds light on the global issue of human trafficking.
Malin Roux Johansson: Background in business and idea-based sector and has for the last years been working as a social entrepreneur and CSR consultant. Apart from her business career, Malin has previously worked for a number of non-government organisations such as Greenpeace, Amnesty, WWF, Childhood, Red Cross and Fairtrade.
Malin took interest in the issue of human trafficking in 2008 during a mission for World Childhood Foundation. She discovered that way too few actors are actively working to reduce the demand for sexual services. An idea was born to use the Swedish Sex Purchase Act as a model to address this problem. Together with Emmanuel Roux she developed the concept of Fair Sex and launched campaigns to enable everyone to get involved.
Emmanuel Roux: Marketer and Business Developer.
The Board
Chairman: Vanessa Corneliusson, BA (Hons.) Law with Politics samt BA Business Administration
Members:
Torbjörn Johansson, teacher
Anders Eklind, Art Director
Zandra Jönsson, Sustainiable development director
Malin Ekelund, Management and communication
Ida Lindgren, Management consult (Suppleant)
Joakim Eklund, Senior Storyteller (Suppleant)
Election comitee
Carina Högberg, Hotell Flora
Susann Dutt, Dutt CSR Consulting
Accountant
Björn Yhunholm, Adact
Advisory Board
The organisation has seven advisers with various knowledge and skills. When needed, these members are consulted in different matters and projects run by RealStars. Members:
Bert-Ola Bergstrand
Sasja Beslik
Ulrika Jonasson-Borggren
Annika Axelsson
Ninna Mörner
Thomas Ahlstrand
Parul Sharma
Tord Carnlöf
Funding
RealStars is mainly developed through our founders as well as through business cooperation and civil society support. During 2012 our project "A Europe free from trafficking" was sponsored by Ungdomsstyrelsen and Västra Götalandsregionen.
We received further support from Ungdomsstyrelsen as well as from Allmänna Arvsfonden in 2014. As a part of this project we created an interactive game for high school students. Through our Creativity for Fair Sex project we also engaged and educated young people about Fair Sex and trafficking through various forms of art.
RealStars is a non-profit organisation and in need of support in order to run and further our work against sex trafficking. Steady contributions enable us to carry out long-term work to address these types of serious human rights violations. RealStars intends to sell products to support our organisation. For now we sell T-shirts among other things.
Läs vår Årsberättelse för 2011 (2011 achievments)
Läs vår Årsberättelse för 2012 (2012 achievements)
Läs vår Årsberättelse för 2013 (2013 achievments)
Läs vår Årsberättelse för 2014 (2014 achievments)
Läs vår Årsberättelse för 2015 (2015 achievments)
Läs vår Årsberättelse för 2016 (2016 achievments)
Support us
Help us to build a better world by supporting our work to end sex trafficking in Sweden and Europe.
Bank giro service: 754-0578  Swish: 123 337 2927
Please mark your contribution "Gift for RealStars". The support will be used to finance activities to fight the demand for sexual services, prevent human exploitation and to further advocacy efforts in regards to Fair Sex and against human trafficking.
The RealStars team
Malin Roux Johansson, Executive Director: malin@realstars.eu T: +46 70 747 41 87
Julia Andén, Process manager, Stcokholm, julia@realstars.eu
Susann Dutt, Process manager, "Business Against Trafficking", susann@duttcsr.se
Åsa Helg, Process manager, "Business Against Trafficking, asa.helg@glaglazo.se
Clara Höglund, Volunteer coordinator, volontarsamordnare@realstars.eu
Anna Svensson, Internship Spring 2019, Student of Event marketing & management, anna@realstars.eu
Become a volunteer
Our volunteers are crucial contributors to our development and success. If you would like to be a part of our work please contact: Many thanks for your help!