Contact Information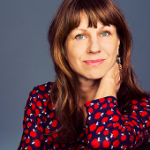 Malin Roux Johansson: founder, operation manager, spokesperson, and lecturer for RealStars.
"Malin Roux lectures about an important subject in a personal and engaging way. It makes one's stomach hurt, but also induces a good feeling of hope. We would absolutely recommend Malin as a very good lecturer."
– Fredrik Löfgren, regional manager Bris.
E-mail: info@realstars.eu
Telephone: +46 (0) 707 47 41 87
Organization number: 802450-8551
Bank Account: 754-0578
Swish: 123 337 2927