Höjdpunkten på kampanjen och visionen Ett Europa fritt från trafficking! Jo, att vi skickade alla underskrifter till EU:s beslutsfattare till Anti-traffickingdagen den 18 oktober! Naturligtvis också Anti-traffickingdagen på Moderna Museet. Let´s talk about Sex, Fair Sex, (mer om eventet och kortare filmer kommer läggas upp).
När vi är många blir rösten starkare. Det är otroligt bra att vi under kampanjen samlat in nästan 1500 röster för Petitionen:
"I have a passion for freedom and human rights, and call upon EU to provide increased protection for the victims of exploitation.

I also call upon EU to make laws that hold sex buyers responsible for their share in the exploitation."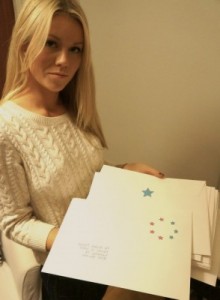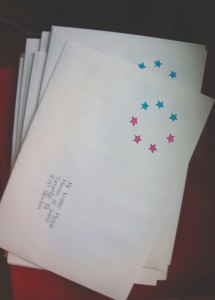 Traditionsenligt, andra året i alla fall, har vi dekorerat breven med stjärnor. Matilda Reiderstedt och Linda Kyrk (som stod för årets designidé) satt söndagen innan Anti-traffickingdagen och "stjärnlade" breven till 27 EU länders justitieministrar som ska uppmärksammas på vilka förändringar som krävs.
Det är bra att vi manifesterar och påverkar! Vi vet att samhällsförändringar tar tid. RealStars visar en färdriktning och stödjer de krafter som vill se förändringar i EU:s medlemsländer. Att utesluta sexköparen från ansvar i traffickingkedjan är både ologiskt och helt felaktigt då denne står för både pengarna som ger den stora lönsamheten och samtidigt utnyttjar de som är mest utsatta i  Europa.
Tack alla som gjorde Fair Sex kampanjen och Anti-traffickingdagen på Moderna Museet möjlig. Vi som var där och peppade varandra, fick inspiration och lärde oss av varandra. Många nya ansikten fick också upp ögonen för trafficking! Det vill vi fortsätta med, att inspirera fler att ta ställning mot Trafficking och för Fair Sex.
Malin Roux, grundare RealStars