LET'S TALK ABOUT SEX. FAIR SEX! Vi närmar oss höjdpunkten av kampanjen Make Fair Sex Real. Välkommen till Röhsska för att uppmärksamma EU:s anti-traffickingdag genom chat talk, konst och musik, The Naima Train. OCH det viktigaste av allt! Alla underskrifter från kampanjen skickas till beslutsfattare inom EU för att göra skillnad!
Tid: Den 18 oktober kl 17.00-19.30.
Plats: Röhsska museet, Vasagatan 37-39, Göteborg
Fri enté: Berätta gärna att du tänker komma till malin@realstars.eu
Arrangör: RealStars i samarbete med Röhsska museet, samt Länsstyrelsen Västra Götaland.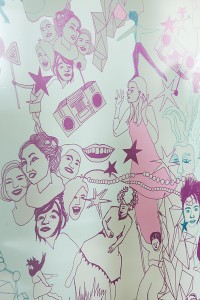 MEDVERKANDE
Chat talk: Stefan Adamsson, kriminalinspektör, Polismyndigheten VGR – Talieh Ashjari, chef social hållbarhet, Länsstyrelsen – Kajsa Ekis Ekman, journalist och författare – Fredrik Ganslandt, Hey it´s Enrico Pallazzo – Ted Hesselbom, museichef Röhsska museet – Monica Nebelius, rådman i Lund – Per Ottosson, kommissarie, Polismyndigheten VGR – Lena Renman, PR & marknadschef Lindex Sverige – Malin Roux, grundare RealStars.
Moderatorer: Ulrika Jonasson Borggren och Johan Kjörk
Designade leggings av Johanna Brag som ställs ut i Röhsskas butik och showroom (delar av mönstret visas på bilden här).
Under kvällen visas också verk för Fair Sex av Kasra Alikhani och The New Beauty Council.
Tack till samarbetspartner som stödjer kampanjen/eventet på Röhsska.
And now for, Arkitektkopia, BRAGdesignhouse, Hey it´s Enrico Pallazzo, Lindex, Macforum, Världskulturmuseet, Länsstyrelsen Västra Götaland, Röhsska museet och Soho. Vill rikta tack till fotografer: Henrik Bengtsson och Anna Sigvardsson.
Välkomna!
Malin Roux