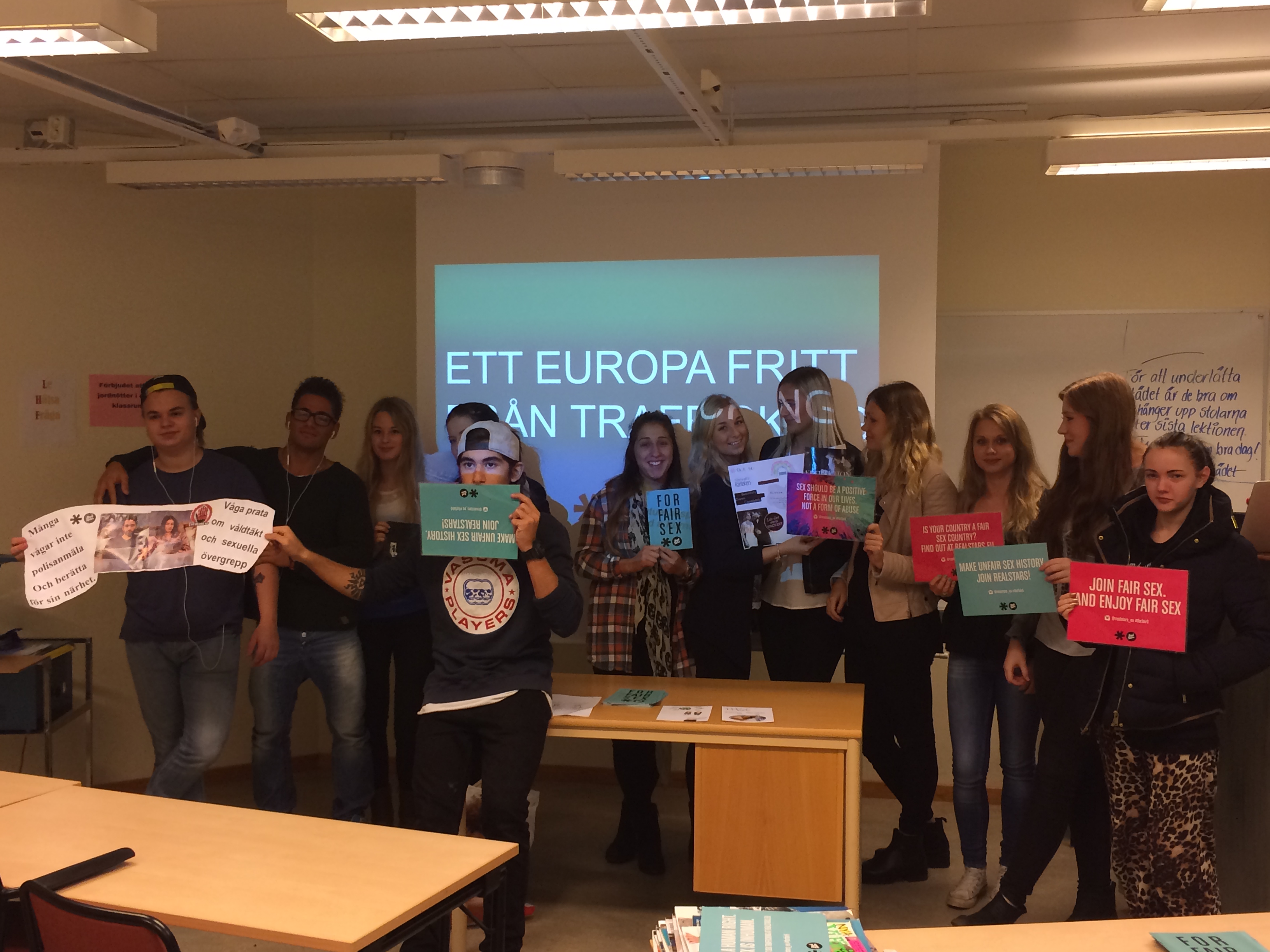 "Thank you for coming. I just don't understand why we were the only ones allowed to listen, the whole school should have been here."

The last two weeks, RealStars have visited schools in Trollhättan, Skövde, Tibro and Göteborg. Our visits have been very busy and we have learned a lot.
At Västerhöjds gymnasium in Skövde, we spent a whole day being interviewed for a podcast with a trafficking theme that four students are producing. The afternoon was spent discussing trafficking, sex and gender norms.
In Trollhättan, RealStars met with a class that study Hotel and Tourism. Together, we discussed how gender and equality are connected with sex norms. During the final hour, the students made fantastic collages, some of which you can view in the picture below.
We were also met by approximately 40 interested students at Fågelviksgymnasiet in Tibro that were very keen on staying to ask questions after our planned hour together had ended. Once again it became clear that we are working with a hot topic where students are thirsting for knowledge and looking for ways to engage.
In Göteborg, RealStars visited Jensens gymnasium where a class of social science students contributed to intense discussions. We discussed laws and how they affect gender norms in a community, as well as differences throughout Europe. On most things, the students couldn't agree but they still listened to each other and tried to understand each others arguments. A very exciting afternoon!
Last Friday, RealStars paid a visit to Vadsbogymnasiet in Mariestad. During the entire day, we discussed how the community is affected by the fact that prostitution is legal. We also discussed which sexual violations are happening in our every day lives and how we can prevent them.
Thank you for two intense weeks. Together we are fighting for a trafficking free Europe and a community free of all sexual violations.