During Almedalsveckan, RealStars arranged the seminar "Who accepts responsibility for the sales of teenage bodies online & IRL?" Malin Roux Johansson, RealStars, Madeleine Sundell, Frälsningsarmén, Julia Östfeldt, Föreningen Tillsammans, and Rebecka Eriksson, Fryshuset, took part in the panel discussions.
The seminar was initiated with a short presentation of RealStars, where the founder Malin Roux Johansson talked about how RealStars are working towards ending trafficking in Europe; by focusing on stopping the demand for sexual services, and through conducting Fair Sex campaigns. She talked about how RealStars work proactively and preventative on three levels – they engage individuals in high schools through the process managers in Göteborg and Stockholm, they engage businesses by helping them include the trafficking aspect in their work with CSR, but also through lobbying and advocacy in Brussels and in other European countries.
Thereafter, the process manager in Stockholm, Anton Gustavsson, conducted an assessment exercise in a similar way to those conducted by RealStars in high schools. The audience was involved to take a stand in a number of questions, and a dialogue about our norms and values regarding sex and gender was held. They were then connected to abuse, prostitution, sex purchasing, and trafficking.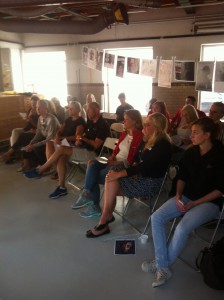 Thereafter, the panel was invited to a discussion held by Anna Lindeborg, process manager at RealStars. Many important aspects were highlighted, and we see that the Internet is an arena where a lot of contact is made, a phenomenon that reportedly is increasing. The channel in itself is not the problem, but focus must be on attitudes and the perpetrator. It is thereby important to discuss the male role and the objectification of girls and women.
Malin Roux Johansson from RealStars and Madeleine Sundell from Frälsningsarmén both highlighted the extent of trafficking across the globe, how lucrative this market is and how, despite us thinking that we abolished slavery, there are more slaves today than ever before. Thirty million people are exposed to human trafficking every day, and a fourth of them are children. 70% of all human trafficking is conducted for sexual purposes.

Rebecka Eriksson, Fryshuset, talked the about the initiative "nätvandrarna" and that one of the biggest problems they face is that young people perceive a "lacking confidence for the adult world when young people are exposed to something on the internet", that the guilt is put on the victim and seemingly has to "suit their selves" for ending up in that situation.
Julia Östfeldt, Föreningen Tillsammans, talked about how the organization work for people that has been exposed to sexual violence and how they, together with others in the same situation, will find strength as well as spread information and knowledge about sexual violence.
The panel discussions came to be about that objectification and sexualisation of young people online has been normalized, and that this is something we have to talk about. The meaning of words was also discussed, that words such as sex work (distorts when a person is often exposed to exploitation and crime) and whore misleads us and are very problematic. Other interesting thought were (among others):
"In the case of abuse, sex purchases and trafficking, the guilt must be put on the perpetrator. The victim should not be blamed."
"The first step in abuse and sex purchases is dehumanization. The objectification contributes to this."
"It must be socially unacceptable to buy sex, and the matter of sex trafficking must also involve men, men that express that it is not okay to buy someone else's body."
The seminar was visited by 30-35 participants with a large age distribution, showing that this is something that engages everyone regardless of age.
RealStars stand for that we all are stars with the capability of taking a stand against sex trafficking in the campaign For Fair Sex. Help us spread the message.
With this, RealStars wants to wish you all a fantastic summer!