RealStars are proud to announce that the FAIR SEX t-shirt can now be purchased at TSHIRT STORE.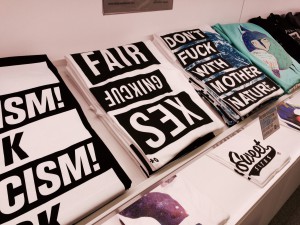 They describe the printed T-SHIRT as "FANTASTIC MEDIUM FOR people to express what they want, who they are and what they identify with. NO OTHER GARMENT CAN BE CHANGED and manipulated so easily. NO OTHER GARMENT is as strong a STATEMENT OF THE INDIVIDUAL – THAT IS WHY WE LOVE T-SHIRTS!"
Apart from the fact that the t-shirts in the store are incredibly stylish all their products are highest quality and also marked as fair trade.
In this way TSHIRT STORE has taken a stand for Fair Sex – you can do that too by buying your very own t-shirt in their store at Kungsgatan 17 in Gothenburg. When you buy a t-shirt all the money from the purchase goes in full to preventive work against trafficking.