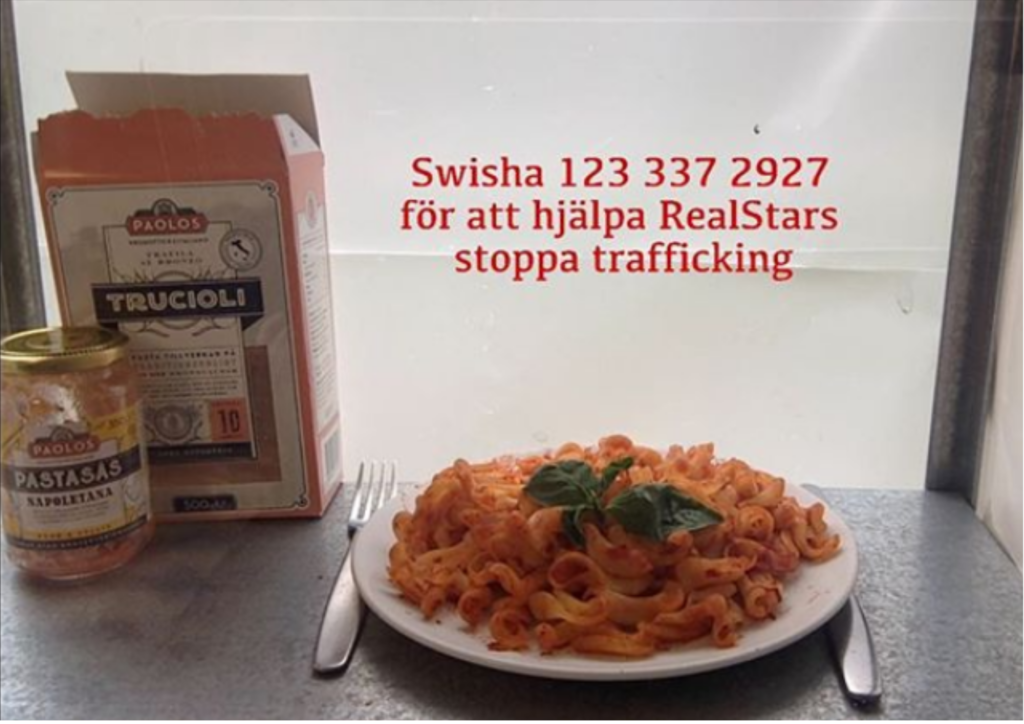 The sex purchase by Paolo Roberto has led to the media and private individuals giving attention to prostitution and trafficking. Three friends discussed what had happened during a dinner and felt that they wanted to make a difference.
– More men must dare to take a stand, says Sebastian Höglund, one of the men behind the initiative Paolos Pasta Rots.
A few days after Paolo Roberto confessed to purchasing sex in an apartment brothel, from a woman from one of Europe's poorest countries, the friends Ivo Lundin-Hatje 29 y/o, Sebastian Höglund, 30 y/o and Hannes Tomani, 30 y/o met up to have dinner.
– We started talking about everything that had happened and wanted to find an outlet for our feelings, says Sebastian.
– Now, the whole of Sweden is talking about the issues with trafficking, and since we all work in communications we realized that we could contribute to a change, which in this case was to try to collect money to an organisation that actively works to prevent trafficking and prostitution, describes Hannes.
Sebastian is a photographer and filmmaker, Hannes is a copywriter and Ivo is an art director. The three friends have done many projects together.
– We have previously always worked with concrete ideas and actions to reach out with our opinions, and we soon started discussing what we could do now. Paolos' food is a very prominent symbol, so from that, we created the idea, says Sebastian. Ivo points out that a lot of people associates the brand Paolos with pasta, and that's why they chose that.
– We had read that companies were going to stop selling his brand and we thought that many products will be left to rot.
When they had the idea, the next step was to research different organizations.
– That's when we found RealStars that work with trafficking, which felt powerful and important. It seems to be a good organization, says Sebastian.
They cooked a pasta with tomato sauce from the brand Paolos and placed a plate of food in front of a camera. Since May 18th it is possible to follow the rotting process of the pasta on Twich, which is a platform for live streaming. The food in the picture is accompanied by an invitation to support RealStars' work by donating money to the organization's Swish account. They have also created an Instagram account where they daily share a picture of the plate of pasta together with the same message as on Twich.
The Sex Purchase Act
The Swedish Sex Purchase Act establishes that it is legal to sell sex, but criminal to purchase sex. Sebastian, Hannes and Ivo are positive to the law, but point out that it needs to be updated and become stricter.
– What is good with the regulation is that it protects the vulnerable, and what is extra good is that it's now being discussed whether the range of penalty is too weak, says Ivo.
As late as November last year, every party except the left-wing party voted against removing the fines from the range of penalty for sex purchasing. However, the recent media reporting has resulted in the matter now being up for discussion again, and many parties have changed their minds. Today, five out of eight parties are for a stricter penalty for sex purchasing, and on May 20th the government announced that they want to investigate if the fine should be removed from the range of penalty.
– Regardless of what people think, there has to be a change in order for more people to be enlightened and in order for a change to be made, continues Ivo.
Demand ceases by changing values
Stricter sentences are not enough. More measures need to be taken in order to counteract sex purchasing and trafficking. Ivo points out that it is about core values and that it is important to work with them. He says that parents need to talk to their children about these subjects, and he thinks that it is also important to help organizations like RealStars and Talita.
– If we look at it from a financial perspective with supply and demand, what we can do from here is to stop the demand by changing values, says Hannes.
They are agreed that education has a great importance.
– As with all matters that affect how we live and that involves human suffering, the school has a responsibility to inform and teach adolescents what is happening, in order for them to understand how this affects us both on an individual and a societal level. I think that 99 of 100 adolescents understand that human trafficking is bad, if they get enough information and facts. The schools need to inform and educate in order to get adolescents to understand why they shouldn't purchase sex from other people, says Hannes.
– Young men need to talk about the subject in order to take a stand at a young age, in order to get more people to understand that it is wrong, Sebastian adds.
One of the focus areas of RealStars is to change attitudes, and adolescents are an important target group. Through lectures, internet games and workshops, RealStars help schools and people who work with teens to prevent sexual violations and increase awareness of prostitution, sex purchasing and trafficking. During the last couple of years, the organisation has held lectures and workshops for over 25 000 pupils around Sweden.
"It is more about us as humans than about us as women or men"
Relatively few men today take a stand against sex purchasing and trafficking. Sebastian thinks that is because this is something that men seldom talk about.
– It is only when the matter is publicized in connection to stories like the one about Paolo Roberto that the matter is discussed, but these issues have to be discussed at all times. We also have to make sure that the matter goes from being just an issue for the women's movement, to the point where men can also feel their responsibility to solve the problem, he explains.
– I read an article with Tarana Burke who coined the "Metoo" concept in the summer of 2006, where she points out that this isn't a women's issue or a men's issue, it is a human issue. She is right, it needs a repackaging. What are we are really talking about here? Is it about protecting women from men or is it about freeing people from sexual exploitation and human trafficking? adds Hannes.
Asking for more male role models
Sebastian, Hannes and Ivo are agreed that more men must engage to prevent sex purchases and trafficking.
– More men have to dare to take a stand, and to go out in the media to talk about it, says Sebastian.
Hannes thinks that we need more male role models and that media ought to write more about men who do good things when something like this happens.
– Unfortunately, it isn't how the media's logic works, but with more good male role models we could probably help more people. Young guys could be able to identify with them, says Hannes.
– It is only when something like this happens that the matter is truly discussed. We need to speak more about this. The question is how to keep the subject alive, even when something isn't topical. This is something we need to find out, finishes Sebastian.
Watch the live streaming of the rotting process here, or follow it via the Instagram account Paolos_pasta_ruttnar.
RealStars are really grateful for the initiative!
Do you want to join in to make a difference? Swish an optional sum to: 123 337 2927. No sum is too small.