RealStars are happy and proud to present Maria Nyström – better known as The Naima Train – one of our two great singers at tomorrow's event against trafficking.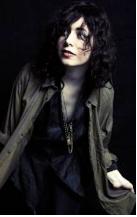 You will be playing a song by Björk at the Club-event for Fair Sex- why did you pick that song?
I chose to play the song Cocoon. Björk is an artist who despite her success hasn't conformed to norms and never been close to being a sex symbol. The song is definitely about sex, but only from Björk's perspective. It's great with musicians who can write about sex in an amazingly relaxed and genuine way.


What does the song say?

It's beautiful and familiar and describes some kind of sexual situation. The lyrics aren't about Björk wanting to take of her clothes or shake her ass for someone. It's about love/sex/intimacy, the way most people want to experience it. She clearly shows it's possible to sing about it in a tasteful way.


Is it something we talk about, in society? What can music do for us people?
I think it's a great shame that women must appear vulgar to express their sexuality. This is even more explicit in show business where you should be able to express yourself in your own way. Instead many divert to not stand out. Women are supposed to be there for the men and not show their own sexuality. In my opinion this is the reason for many sexual assaults and why the world is in this way. To have the power to be heard and taken seriously; a good start for change could be in show business.