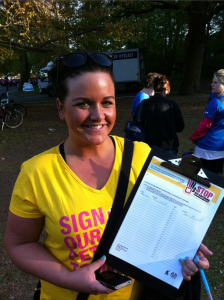 In June 2010, The Body Shop started their biggest campaign so far. In cooperation with ECPAT, the campaign "Stop sex trafficking of children and young people" was started as a petition, and means of making the government realise the seriousness of sex trafficking of children and young people.
They demand that the government:
1. Take the case of sex trafficking of children and young people seriously! Approximately half of all cases of trafficking in Sweden are under the age of 18.
2. Implement a specific law against trafficking of children. Young people have a right to specific protection.
3. Instate protected housing for victims of trafficking. Young people are more severely affected than adults.
The campaign was supported by 65 countries and the petition was handed to governments of 40 countries. 20 countries have changed their laws to protect children and young people against trafficking. The campaign was officially ended on 29 March 2012 and its result was fantastic. The petition yielded seven million signatures.
I, myself, work for The Body Shop and partook, amongst other things, in the collection of signatures during Vårruset in Gothenburg 2011. Now I am also engaged in RealStars and working towards a trafficking free Europe. Now that RealStars campaign FOR FAIR SEXEurope free of trafficking – is up and running, we are doing something similar. We are collecting signatures for a petition that is to be handed to the EU with the purpose of evoking a well needed sharpening of existing law.
Who knows, in the future we might run into each other at Vårruset or other events like it.
/ Rebecca for RealStars
Make a statement FOR FAIR SEX and a Europe free from trafficking