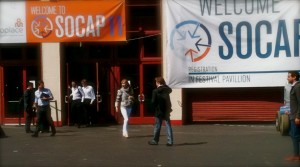 It was one of those conferences which just felt like WOW, in tune with the times. Social Innovation! Stock Market Crash, EU-crisis and I find myself in San Francisco at SOCAP11 in early September – a new movement starts to take shape! The theme is Impact Investing or as SOCAP themselves describe it – combining "MONEY and MEANING" – money that can help do good.
I am enthusiastic when it comes to this symbiosis of participants and sectors which create new ways to change the world. It is said that the entrepreneurs of the future are social entrepreneurs, which I also think is true. The world definitely needs a greater variety of initiative and entrepreneurs who succeed beside the large corporations. A social capital trade is needed.
The meetings are usually the best at conferences, the same can be said here. One moment you speak with an investor from New York and the other you talk to a social entrepreneur from India who speaks about solar cells or schools.
There are always different perspectives; philanthropists, foundations, business-saints, microcredit or similar groups of individuals, all of whom invest small amounts of money to achieve social change. Something which can become stronger in the future. On the other side we have the ones with the ideas, entrepreneurs in need of capital in order to realize the visions.
My mission is to talk about RealStars and bring trafficking to the agenda. One of the really big problems we face today. The response comes with several WOWsMany people called the Fair Sex concept creative and important.Just like other social entrepreneurs at the conference making their "pitch", we require partners, good advice and capital.
Partners in order to create a strong brand and reach the targeted demographic, which is central to these entrepreneurs as well as RealStars. That way we can get Fashion for Fair Sex out on the market and make a difference.
The belief that something great is being made unites us. The vision RealStars has is to use a social brand to get people interested in making a better world.
Malin Roux for RealStars
Statement for Fair Sex here