Sweden adopted the legislation for purchasing commercial sex that criminalises buying sex in 1999. Several countries have joined after that; France, Canada, Iceland, Northern Ireland and Norway that took it a step further by criminalising buying sex outside of Norwegian borders as well. Now the debate has come to Spain where it is a controversial topic, but where the governmental party has opened up for a new legislation.
According to Fondation Scelles, approximately 300,000 to 400,000 people are in prostitution in Spain, and of those people 90 % are being exposed to trafficking for sexual purposes. Prostitution is not prohibited, but since 2015 the punishment for procuring has become more stringent and both buying sex and selling sex is seen as an offence to the public order, and therefore punishable. In two years, 2015 to 2017, 1250 cases has been treated for blatant violations and another 597 for less severe cases, according to the Ministry of the Interior. But it is not clear how many cases has concerned commercial sex purhases and which were about offering sex for payment, thus prostitution. According to Carmen Meneses, anthropologist from Universidad de Comillas, there are also 51 local regulation that in most cases go after the women in prostitution.
José Nieto, chief inspector at the National Police's  Illegal Immigration Network and False Document Unit (UCRIF), claims that the amount of people that are in prostitution on their own terms is minimal compared to those in slavery. In Spain, human trafficking is illegal with a penalty scale of five to eight years in prison or more if there are special circumstances. Furthermore, the industry of human trafficking and prostitution is constantly growing, and the sex buyers are getting younger. Today most are between 18 and 35 years old, according to the police.
Spain is both a transit- and a destination country in the global market of human trafficking, and most foreign victims are from Eastern Europe (for example Bulgaria, Romania and Russia), South America (Paraguay, Brazil and Ecuador), or China and Nigeria.
Amelia Tiganus is a survivor from sex trafficking. She is originally from Romania and was forced into prostitution in Spain, where she still lives.
"Like other survivors from prostitution I define brothels as concentration camps. During the day we were forced to watch porn films, eat and sleep under strict surveillance. We were expected to be amiable and smile to give the place and the pimp a good reputation. We had to play the role all the time and do what the sex purchaser wanted, like dress according to their wish or go under a different name. We had to sleep in the same bed as the person who were sexually torturing us".
But lately the government has begun to look at the so called Nordic or Swedish model for fighting human trafficking and prostitution by focusing on militating the demand for buying sex, to protect the people exposed to sexual exploitation. The debate commenced in the beginning of September when a permission for a labour union organisation for prostituted people was issued, which the government withdrew right away. In addition to this, they immediately replaced Concepción Pascual, director for the authority responsible for the permission. Prime minister Pedro Sanchez afterwards announced that Spain in the future will have a law against sexual exploitation. Prostitution and buying sex are part of trafficking and a legislation against buying sex will also create prerequisites to antagonize trafficking. It is therefore an important step that the governing party PSOE supports the Swedish law of sex purchase in their most recent manifesto, even though it is not yet clear what it will look like in its entire version.
So far, the purchasing of commercial sex is a controversial topic in Spain where the sex trade is very expansive and with many participants that profits from it. It is why there is no gathered opinion against the sex trade. Compared to the progress in France where the civil society worked hard for a change, it will take a great advocacy in Spain for more people to understand that sex purchase and trafficking is preventable by legislating and informational efforts.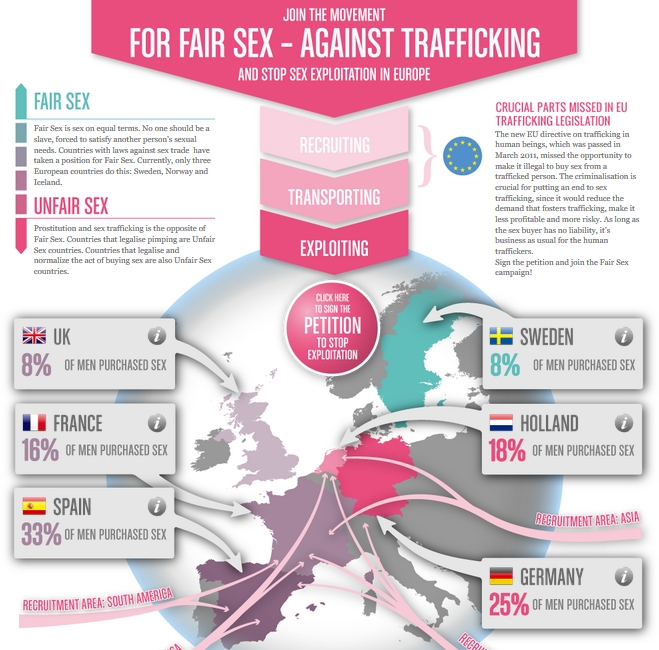 Do you think that the EU should have common law for the purchase of commercial sex according to the Swedish model? Then you can sign our petition to the EU and join the work against sex purchase, prostitution and trafficking.
Read more about the situation in Spain and other countries at the French organisation Fondation Scelles, or their Global Report.