To celebrate International Women's Day in Stockholm, RealStars attended the event "The right of my Body", organized by the UN's National Women's Committee in Sweden together with the Eight March Network.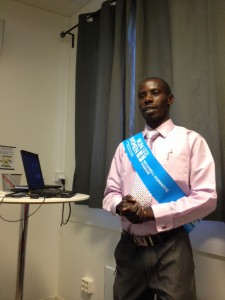 The day began with a panel discussion with young transpersons: Yolanda Bohm, a trans activist and member of RFSL Young Federation, Love Elfvelin, LGBT activist and social worker student, and Vide Bergenholtz, LGBT activist. We were told about how the right to decide over their bodies is not a reality for transgender people, the impacts of norms on how men and women are expected to be, and how transgender people can secure their right to their own body and identity.
The next speaker was Isaac Oburu from Youth Alive! Kenya (YAK), who spoke about gender rights and issues in Kenya. We were told about the current situation for women in Kenya, for example, the prevalence of gender-based violence and how they are disproportionately affected by HIV/AIDS. YAK works to strengthen the generation of young people, were one of their programs focuses on mentorship for young women.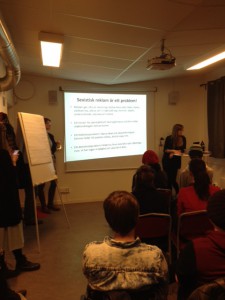 The last seminar RealStars participated at were entitled "Complain – and we stop sexist advertising". The Swedish Women's Lobby brought up the issue of how society is affected by sexist advertising and how we together can make a change. Through the Swedish Women's Lobby's campaign "Complain", everyone can resist sexist advertising. After the seminar, participants were divided into smaller groups to discuss "how we together take back our public space and push politicians, companies and the advertising industry to take responsibility for promoting equality".