Pornography is being consumed by younger and younger people and has more aggressive content today than previously. England has responded with a new law. RealStars considers pornography's link to prostitution and trafficking.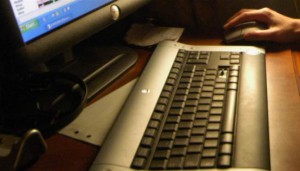 People don't speak about pornography, but you see it as soon as you turn on the computer. Pornography today is different to the pornography that was consumed in newspapers and magazines twenty-years ago.[1] The Internet has changed the consumption of pornography as consumers are anonymous and it is easy to get access to pornography at affordable prices. This means that more and more people look at pornography and that it has become a norm in our society where approximately 98% of boys and 73% of girls in Sweden have been exposed to pornography.[1]
The UK has now responded with a new law that bans certain sexual acts in the production of porn (within the UK), with the purpose of protecting children.[3] Although the law has been criticized for being moralistic, it raises some important questions that we perhaps all should think about. For instance, should pornography be considered 'okay' and accepted as normal?
Whether we are aware of it or not, pornography affects us in a number of different ways. In a short film called "Porn Damaged" (Porrskadat in Swedish), a number of young women share stories about how porn affects their sexuality, self-image, and relationships.[4] The film states that pornography "creates a template for how we should behave sexually".[5] The problem is that the sex shown in pornography is often violent and degrading.[6]
According to research 9 out of 10 pornography scenes display physical aggression and over half contain verbal aggression. Furthermore, almost all the targets of the aggression are women. What is even more concerning is that the reactions to the different forms of aggression are almost always positive or neutral.[7] Even when a woman initially says 'no' to a sex act, she eventually shows pleasure and enjoyment.
Men and boys watching pornography receive the message that even if a girl says 'no', she will enjoy the sexual act in the end, and for girls, the message is that aggressive sexual acts are pleasure enhancing. It should not come as a huge surprise, then, that we are observing sexual offences among younger and younger people.
When it comes to self-image, women who consume pornography or have a partner who consumes pornography can internalize unrealistic expectations of what their body should look like. Many women in pornography have received surgical enhancements or have been photoshopped, so it is not surprising that men who consume pornography regularly are more likely to feel less satisfied with their partners appearance and sexual performance.[8] It is also not uncommon that women in relationships feel pressured to act out scenes in pornography with their partners, even if they do not feel comfortable doing so.
Porn not only negatively influences consumers, but also those involved in its production. RealStars notes that porn has specific links to prostitution and trafficking. RealStars' motto is sex on equal terms, Fair Sex – and therefore porn often represents the opposite of Fair Sex. In parallel with street and indoor prostitution, many women in pornography suffer from both mental illness and poorer social circumstances: women in pornography are three times more likely to suffer from depression, 1.5 times more likely to live in poverty, and three times more likely to be exposed to childhood sexual abuse than the average woman.[9] Many women in prostitution have also participated in the production of pornography, and these women were found to have significantly higher frequencies of posttraumatic stress disorder (PTSD). This demonstrates that pornography, as a specific form or prostitution, is particularly damaging to the participants.[10] All these factors taken together demonstrate that just like prostitution, women in pornography by and large choose to act in the industry from a range of limited options.
Both within prostitution (street and indoor), and within the porn industry, people can be forced, lured, or pressured into the industry du to disadvantaged circumstances. Therefore porn, as a specific type of prostitution, is a driving factor in human trafficking. RealStars' message is Fair Sex—sex on equal terms, without coercion or violence, in all situations and among all people around the world. Clearly, mainstream pornography does not meet the requirements for Fair Sex, and therefore most be problematized.
By: Meghan Donevan
[1] Here I refer to mainstream pornography, which is seen as something different than "home-made" pornography, which is not done for an exchange of money. It should be noted that "home-made", or alternative types of pornography represent a very small fraction of the entire porn industry. In addition, "gender-equal porn" has been criticized for containing the same amount of physical and verbal aggression directed towards female participants in mainstream porn.
[2] Wallmyr, G. & Welin, C. (2006). "Young People, Pornography, and Sexuality: Sources and Attitudes," The Journal of School Nursing, 22(5):290­-295; Häggstrom-Nordin, E., Tyden, T., Hanson, U., & Larsson, M. (2009). "Experiences of and attitudes towards pornography among a group of Swedish high school students," The European Journal of Contraception and Reproductive Health Care, Vol. 14(4):277-284.
[3] "UK porn legislation: What is now banned under new government laws." December 13, 2014. The Independent. Accessed at: https://www.independent.co.uk/news/uk/home-news/uk-porn-legislation-what-is-now-banned-under-new-government-laws-9898541.html
[4] "Porrideal stör tjejers sexualitet." May 23, 2013. DN. Accessed at: https://www.dn.se/insidan/porrideal-stor-tjejers-sexualitet/
[5] Ibid.
[6] Bridges, A. J., Wosnitzer, R., Scharrer, E., Sun, C., and Liberman, R. (2010). "Aggression and sexual behavior in best­selling pornography videos: a content analysis update," Violence Against Women, 16(10):1065-­1085.
[7] Ibid.
[8] Zillman, D., and Bryant, J. (1988). "Pornography's Impact on Sexual Satisfaction," Journal of Applied Social Psychology, Vol. 18(5):438-453.
[9] Grudzen, C., Ryan, G., Margold, W., Torres, J., and Gelberg, L. (2009). "Pathways to Health Risk Exposure in Adult Film Performers," Journal of Urban Health, Vol. 86(1):67-78.
[10] Waltman, M. (2010). "Rethinking Democracy: Legal Challenges to Pornography and Sex Inequality in Canada, Sweden and the United States," Political Research Quarterly, Vol. 63 (1):218-237.