Most of us like sex and fashion and RealStars figured; why not combine the two by creating fashion products to be sold as a benefit in the work against trafficking? When you buy our products all the proceedings will be used to continue the work against sexual slavery, prostitution and trafficking in Europe.
This t-shirt helps stop trafficking
Fair Fucking Sex is produced together with Teeeshit and with a design by Johanna Brag. Buy the t-shirt and support our work against trafficking here.
Legwear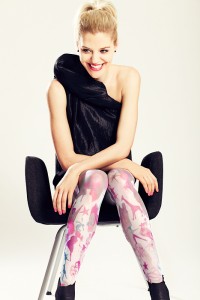 Most of us would consider pantyhose and leggings as real fashion clothes. It is said that the essence of those clothes are about seduction. That's why we thought it was exciting to use them as the "bearer" of Fair Sex and freedom.
Johanna Brag designed RealStars' first legwear in 2011. Johanna has studied design at Textilhögskolan in Borås and now works as a textile-designer in Paris. If you want to read more about Johanna, check out www.bragdesign.com
The inspiration is that "all girls are stars and no one should be abused". Reality is sadly different, but by reading about and discussing important issues like trafficking, you become more aware of the oppression and you also see the strong stars in your friends. In the pattern you can see free human beings who do what they want in life and have had the opportunity to see that they are stars.
RealStars is an interesting organization with a different idea, I was free to do what I wanted and found inspiration for the patterns through RealStars' message.
The Exhibition at Röhsska designmuseum August – October 2011