Realstars have many creative people to thank for creating and opinion-forming for Fair Sex and thereby against trafficking. Creativity for Fair Sex is part of our work in schools. But a lot of working people choose also to take a position for everybody's equal value through different creative expressions for Fair Sex. Now we have three new illustrations by Eric Bronelius that we will use in many contexts. Read the interview and take part of the colourful messages.
Who are you and why were you interested in doing illustrations for Realstars?
My name is Eric Bronelius, I'm turning 23 this year and am currently working as a youth recreation leader, a substitute and a course leader in sketching. Ever since I learned how to hold a pen I have been doing creative creating in different forms and ways of expression. Image creation has always been the thing closest to my heart and for a few years the digital art has taken a big part in my design.
When I found out that Realstars was on the lookout for a volunteer who could create illustrations for them, I instantly seized upon the idea. To be able to use my image creation at the same time as helping to spread and evoke thoughts about Fair Sex was an opportunity that I didn't want to miss.
How did you come up with them? What was important for you in the process?
All my illustrations have their own background in how they came to be, but what all the pictures had in common was to create something new. From my perspective, there were already a fair amount of dark and dull illustrations portraying trafficking, so instead of focusing on the human trafficking industry I chose to create colourful and light illustrations portraying Fair Sex.
Another theme that is common for my illustrations was that gender should not be in focus, since I believe that everyone, no matter their gender, identity or appearance, should be able to have sex on equal terms. For this reason I have chosen to not draw people or to draw them very abstractly.
Your illustrations speak for themselves. What other challenges do you think there are to get to the values that lead to unfair sex?
I believe that most injustices in the world would cease if we all regarded people as equal and dared to stand up for human rights.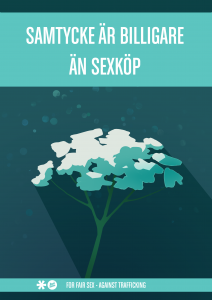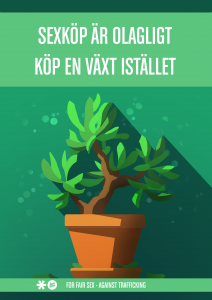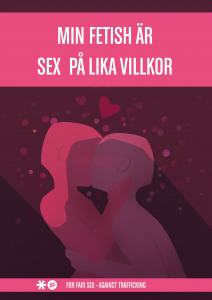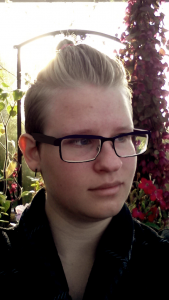 Eric Bronelius. Creator of three illustrations for Fair Sex.