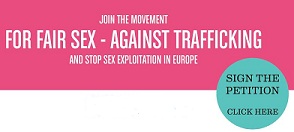 Europe and sex is in focus. Or, rather the opposite of Fair Sex being Unfair sex. .
Sex trafficking and and sex trade is now a bigger problem than any of us could ever have imagined, which is highlighted by our For Fair Sex-campaign.
The campaign highlights the fact that Europe has the highest number of sex slaves per capita. In Europe, where he laws protect the sex buyer rather than the victim.
The new EU-directive lacks substance as long as the efforts and laws are not combined with creating the shared values that is not okay to abuse anyone, particularly women and children. Especially women and children, since there is a long recorded history of abuse towards them.
However, we believe there are winds of change blowing across Europe, despite the ongoing gloomy situation. Sweden has taken the lead for Fair Sex and all eyes are now on us. Svenska Institutionen is one amongst many organisations, actively working to spread the message of the Swedish model; the Sex Purchase Act (Sexköpslagen). A law which puts the responsibility on the buyer and frees the victim of all guilt.
We openly invite everyone, yes everyone, during the campaign to discuss and debate and above all sign the campaign petition for a Europe without trafficking.
The message will reach the politicians with the power to drive change when our words turn into action.
The plan is give room for more fashion and several interviews with different personalities and socially active people to talk about Fair Sex. It's a question which matters now more than ever.
Thanks to everyone who made this campaign happen and are supporting us.

Follow us and spread the word about the Fair Sex-campaign.
Malin Roux, founder RealStars