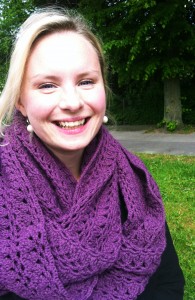 Saga Alm Mårtensson has studied for the Master's Degree in sexology at Malmö Högskola and a basic psychotherapy course in cognitive behavioral therapy at Karlstads Universitet. Right now she works as a curator at a health center. We asked her about media's role in discussions about sexuality and the messages media transmits regarding sexuality.
How do you think we are affected by the large amount of information we receive about sex every day, from TV and newspapers for example?
– I think that the way we talk about sex creates envisions about how sex is and how it should be. It can be positive and negative. A tendency could be to talk a lot about sex as something problematic. This will create problems with our relationship with sexuality and make us forget the source of passion and pleasure sex can be.
Saga does however see many benefits for discussing sex in media since it becomes possible to debunk misconceptions and myths about sexuality. Many people are concerned about their body and sexuality and feelings they can't understand. She thinks it becomes easy to worry if it is normal or not. In that case, a discussion can put the ideas about sex in perspective and subsequently reduce anxiety.
What message about sex is the most common in women's magazines?
– I believe the most widely spread message is about the fixation of the body and how it looks. The discussion is only about what's beautiful and sexy and what is ugly. So we forget that the body has a function. Very few have bodies that fit in the small spectrum of what is considered beautiful and sexy. It is also difficult to accept the body as something physical with its different functions if you have to be as attractive and cool as media conveys. This leads to many problems when young women try to express their own sexuality.
What message about sex is the most common in men's magazines?
– I draw a blank at this question and I don't think it's a coincidence. I don't think we have enough media space to explore masculinity and men's sexuality today. Men's sexuality is considered so obvious that it's not even discussed and that can certainly be a disadvantage. It is even difficult for men to find a place to talk about sex when are in a clinic. There is maternity clinics for women while men who passed the age limit for youth clinics are left out in the cold. More sexology clinics are needed and there is a definite need for places where men can talk about sex.
Saga claims the media doesn't encourage playfulness and curiosity enough.
– Being confident with your sexuality outside your comfort zone, experimenting and being able to say; I liked that – I don't want to do that again. This could have been an improvement for us.
Finally she points out that there has been lots of good things done about sexuality in media. An example is the morning papers' series about subjects like unfaithfulness, abuse and sexual variation. Another example is the radio program "Ligga med P3" which she thinks has created a fantastic forum and offers a vast amount of information.
Charlotte Nilsson, freelance journalist and script writer in Malmö
………………………………………………………………………………………………………..
Take action –  FOR FAIR SEX and a Europe free from Trafficking!