Introduction of the process manager in Stockholm, Anton Gustavsson.
Who are you, and why did you apply for the job as process manager at RealStars?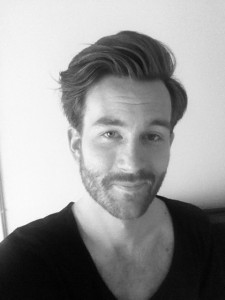 I am from Norrahammar originally, a small town outside Jönköping. Since an early age, I have been passionate about human rights and justice issues. After finishing my studies in 2013, with a Politices bachelor degree from Linköping University and a masters degree in conflict management from the University of Bradford, I was an intern at the non-profit organisation Hungerprojektet that work with global hunger- and poverty issues. My work there, among other things, meant that I got to visit schools to lecture on the subject. When I saw that RealStars was looking for a new process manager in the Stockholm area, I thought it seemed super exciting because the job meant visiting schools to lecture, discuss and inspire, and this is something I really enjoy doing. To then be able to discuss and talk about trafficking – the slavery of our time – makes it even more exciting.
What do you think is most important to stop human trafficking and sexual exploitation?
To begin with, to not look the other way when faced with what is going on, to have the courage to talk about it and discuss and reflect on trafficking, prostitution and the sex industry. Human trafficking for sexual exploitation will not disappear by itself, since it's very lucrative, but the fact that we in 2015 can let this despicable crime go on is a scandal in itself. I think that the Nordic model against sex purchases initially is a good foundation, because it is the demand we have to combat. Because without people that are willing to buy and take advantage of other people, the phenomenon would not exist. Therefore it is important that we work towards making other countries embrace this legislation.
Bric-a-brac?
I love football in all its shapes, Arsenal in particular, and I am active as a football referee within the Stockholm area. An interest that is a lot of fun and challenging at the same time as it keeps me in shape.