Hamburg is the second largest city in Germany. With its almost two million people, the city is the center of media, finance and gastronomy in Germany. Most of the big newspapers are based here, such as Die Spiegel, Die Zeit and Die Welt. But this is only one side of Hamburg, the light side. Hamburg's other side is sadly very dark and tragic.
When clerks, journalists and chefs go home for the day, the work day for prostitutes start.
During the night, the center of the city is moved from the blocks around the court house to those around the infamous pleasure street called Reeperbahn. Reeperbahn has for a long time been Hamburg's primary entertainment district. Ever since the port of Hamburg was built, Reeperbahn has been a center for the city's entertainment. The entertainment is primarily aimed at young men and what draws them there are the strip clubs, brothels and drugs.
At Reeperbahn and the surrounding blocks, the brothels are close to one another. Sex has nothing to do with love or passion here, sex is business and legal. Buying a woman's body at a brothel can be as cheap as 39 Euro (about 360 SEK). But brothels aren't the only places you can buy sex. The streets are brothels too. Buying sex on the street is usually even cheaper than inside a brothel.
Lucrative business
The three biggest illegal trades are drugs, human trading and weapons. These trades are sadly more lucrative than most legal ones. At Reeperbahn, all three work together.
The women are often from the former Eastern bloc, that is Russia, Ukraine, Estonia etc. They come to Germany with hopes of a better future, with promise of jobs like assistant or secretary. But when they come to Germany they are brought to a brothel and are "indebted" to the brothel owner and they need to work off the made up debt to be free. It sounds like something which comes up a lot in discussions about sex trafficking and is perhaps hard to believe but the terrible truth is that this is a fact in many cases of human trade in the sex industry.
There is also street prostitution, which can look like an independent woman is selling sex, but this form of sex trade works like a brothel as well. Most of the prostitutes on the streets have an apartment to return to with their customers, though the apartment is usually owned by a third party.
There is plenty of drugs on the streets and in the brothels. Many prostitutes become addicts, probably to be able to go on with such a difficult lifestyle.
Drugs often lead to conflict and drug-related conflicts are often solved with armed violence, something Hamburg has had trouble with for a long time.
In order to solve these vast drug and weapon problems, the police at Reeperbahn patrols 24/7. This costs a lot to Hamburg and yet, no connections to the widespread sex trade has been found. A report from the city written a few years ago states that the legalization of sex purchases has helped the sex selling women to better terms and subsequently a better life. This is quite hard to believe when you walk along Reeperbahn.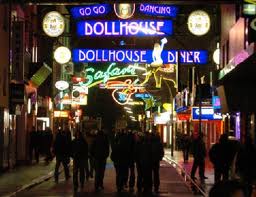 Observations
I spent a Saturday night at Reeperbahn to see how this business works. I walked along Reeperbahn and during my 400 meter long walk I was approached by women at least twenty times, they said: "Ficken" (fuck), "blowjob", and offered their price. Many of these women were barely even women but girls. The age limit for prostitution in Germany is sixteen. It is shocking for someone who has never seen it before but it is sadly everyday life in German society.
I visited three strip clubs along the Reeperbahn during the evening. At one of the strip clubs, entrance is free but you pay extra for the first beer, the profit apparently goes to the girls dancing on stage. I spent about ten minutes per club and was offered to buy sex from at least three to four women at each club.
When I walked the same walk on the day after I wasn't approached as much, but some tourists asked me where they could buy sex, I didn't answer even though I knew.
Social impact
According to many, sex selling is the world's oldest profession. But it's not really a profession, is it? Selling your own body to survive can't possibly be considered a profession. This is my opinion and I hope many others' as well. But the majority of European citizens have other sentiments.
Buying sex is legal in most parts of Europe and is even a part of their culture. Young men in Hamburg enjoy visits to strip clubs on Saturday nights. It is especially popular to have a bachelor party at a strip club.
Growing up with the possibility of paying a woman to undress or to satisfy your needs is very worrying thought.
Europe is a paradise for sex buyers and as such, a paradise for human trading. This creates problems not only because of the increasing human trade industry but also because it affects the way people perceive power, women and sex. Knowledge is power, something you work hard to achieve, something you can't buy with money. A woman is a human being and a human being is not something you can own. Sex is synonymous with pleasure for both partners, not just one.
Ernst A Borg for RealStars