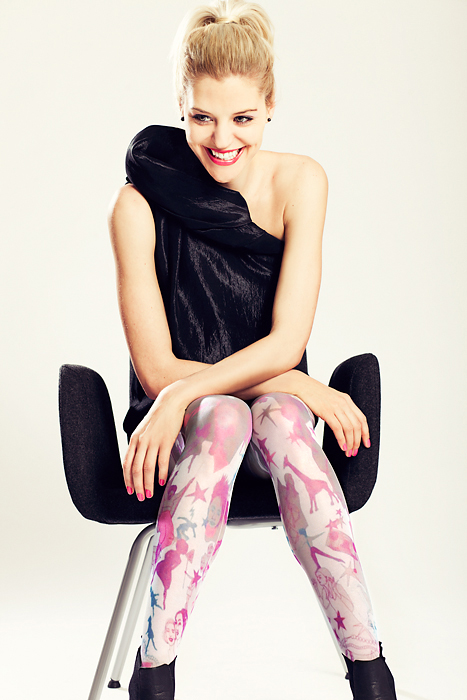 When RealStars asked if I wanted to be the model with the leggings which during 2011 were a part of the organization's campaign. I didn't hesitate for a second even though I am camera shy. Having the opportunity to be a part of the marketing of Johanna Brag's gorgeous 2012 design in the fight for Fair Sex negated all camera shyness in the world.
The Photo-shoot was my first assignment as an intern at RealStars. It was a great start. Anna Sigvardsson acted like a true fashion-photographer and Malin Le Roux encouraged me to pose, jump, laugh and play in front of the camera.
The idea was to get a picture which shows off these great looking leggings and at the same time screams "Girl Power".
A picture which breathes Fair Sex and stand as a front figure for RealStars.
A picture which can be used to sell the product to shops where the buyer helps with the fight against trafficking.
I think we succeeded.
But I'm not only playing model. My name is Matilda, I'm studying my final semester at Communication Studies at the University of Gothenburg and I'm an intern at RealStars' office this spring. The grounds for my dedication is not primarily to complete my internship, but is found in my opinions on equality and women's rights. The abuse of women's sexuality is in my opinion the worst kind of oppression.
I think prostitution is primarily a way for certain men to control women.
It's an ancient patriarchal arrangement which becomes apparent when a woman is forced to sell her body because there are men who are willing to pay.
RealStars emphasizes the cause of trafficking; the demand for sexual services and the demand for power. Therefore, it feels absolutely natural to take action for Fair Sex and commit to the work RealStars does in order to stop sex trade in Europe.
I will blog about this and many other things in the future. Until then, the picture will have to speak for itself!
/Matilda Reiderstedt for RealStars