As we have written before, there are sadly many ways girls and women can get in trouble due to their gender. Trafficking is the worst kind of abuse, but unfair sex is ubiquitous. It exists in many trades and all around Sweden and the world. Owning your own body is one of the most important and basic of human rights. Yet, infringing on a woman's right to her own body is systematic.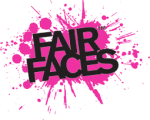 RealStars visited Stockholm last week. I met the founder of the new model agency Fair Faces.
Hind Aloul is a brilliant and motivated young girl who got sick of working under the terrible conditions the model agency offered her as a teenager.
After years of experience as a model, Hind decided to simply take matters into her own hands and change the lives of many of the young girls who wish to work as models, but are instead exploited and misled.
– It is definitely the most fun but unfortunately also the ugliest trade there is. Hind said this about the model business to modette.se in September.
Fair Faces has their own documentary on Efter tio/TV4 and continually brings new poignant model names. Hind wants to open more Fair Faces-agencies all over the world, so that no girl in the future can be exploited and treated badly in the trade.
Fair Faces received the Entrepreneur of the Year Award from Isabella Löwengrip and Egoboost Magazine in March.
Visit Fair Faces site or see the documentary here.

/Matilda for RealStars