What kind of society do we want? How do we diminish the demand for sexual services – the root cause of trafficking? In Europe the purchaser of sexual services is protected by liberal legislation and few victims of trafficking are being rescued. For the fifth year in a row, Realstars are raising awareness during the EUs anti-trafficking day by displaying art created by youth in Swedish upper secondary schools and community colleges. The images are a part of Creativity for Fair Sex,, a project funded by Arvsfonden. The display is combined with a workshop – welcome!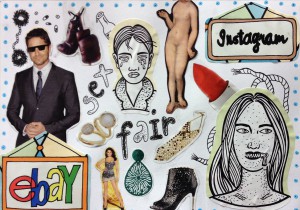 On behalf of the EUs Anti-Traffikcing Day on October 18th 2015, Realstars are premiering the display at the public library. Together with thousands of youths located all over Sweden we want to highlight the fact that there is a modern form of slavery in Europe today – the commercial sexual industry. But above all, we want to do something to change this.
The display consists of collages and photos created by youth from the region of Västra Götaland and other areas in Sweden. This is in order to highlight the issue of 30 million people being subjected to trafficking, amongst which 60% is for sexual purposes. Our attitudes towards sex, power structures and demand are all connected to the issue of the continuation of the modern slavery.
The images are a part of "Creativity for fair sex", a project funded by Arvsfonden and initiated by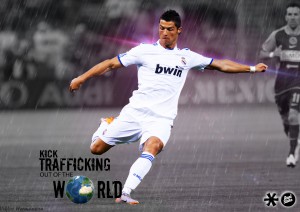 Realstars. Realstars visits schools around Gothenburg and Stockholm, where we lecture, host creative workshops and raise awareness. During these visits to schools the students are encouraged to discuss and think about issues such as prostitution, sex trafficking and its counterpart – Fair Sex – sex on equal terms, and what this actually means. How are our own and society's attitudes towards sex, equality and abuse connected to trafficking? The results are images, stories, photos and films. Allow yourself to be inspired by the display!
The work we perform in schools is connected to the work we do for a Europe free from trafficking, we want to promote anti-prostitution legislation on an EU level. We invite everyone to sign our petition on www.realstars.eu/for-fair-sex. Once You have signed it, spread the word and share the message in your social media networks to make a difference. The signatures are sent to policy makers within the EU.
Workshop, October 21st at 5pm – Welcome!
Fair Sex – sex on equal terms, as opposed to Unfair Sex is the theme for a workshop aimed to focus youths' awareness towards sexual abuse, trafficking and prostitution. Realstars invites you to a lecture and a creative workshop which will inspire youths to take a stand and create a theme that will affect everyone. You who are between the ages of 14 and 25 are welcomed to participate!