During the last few weeks RealStars has visited three different community colleges in the region of Västra Götaland, Sweden. Participants at the Dalslands, Fristads and Varas community colleges have held intense discussions, and taken a stand in several creative manners for a world free from sex trafficking and for Fair Sex. Check out both Facebook and Instagram with the hash tag #forfair6 to view their fantastic contributions. Also make sure to check out Creativity for Fair Sex. Thank you for your great commitment!
The participants at the community colleges have been more than eager to join in discussions regarding everything from trafficking, prostitution and legislation, to everyday norms and what constitutes socially acceptable behavior. Most agree that there needs to be more of a debate regarding these issues and that these discussions should preferably start at a relatively young age. Many have witnessed prostitution for themselves and some even have friends who have purchased sexual services. These issues affect everyone.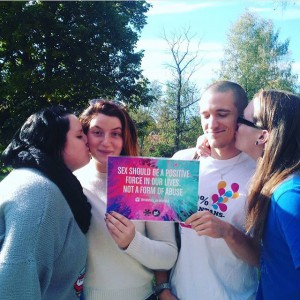 During these visits we have discussed socially accepted behavior and ethical values, what it is that promotes the demand for prostitution and how we can counteract this demand. Many raise the issue of power as an important aspect in understanding prostitution. The need to feel empowered and to be able to control another human being, as well as the fact that men in general have more power in society overall. This is at the cost of women and is mirrored in the marketable sexual industry. There are more men who purchase, and more women who sell.
The participants have also addressed the importance of spreading knowledge regarding these issues in order to facilitate a change. Many believe that the myths that surround individuals in prostitution are sturdy and still prevail.
"I believe that many who purchase sex thinks, this specific girl is not that bad off or this specific girl does not have a pimp. We have to get people to understand what it is they are doing and what consequences their actions have."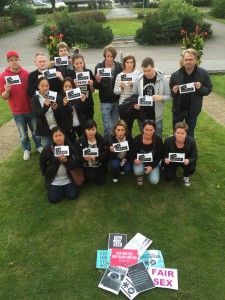 Many display a great understanding for the Swedish legislation, but at the same time state that there is a need for more efforts for individuals living in prostitution. They state that individuals have to receive help and support during an extended period of time in order to move on with their lives after being able to escape prostitution. Sweden needs to get better at this. But many believe that it is obvious that we need to focus on the demand, and question the manner in which Germany and Holland justify their commercial sexual industry.
The participants we met with have all displayed a great commitment and a desire to learn more. Many are asking questions and want to know how they can become more active. Many became active right away by sharing contributions in our Instagram competition and by contributing creatively. Thank you for caring about changing the world for the better together with us!
P.S. The contributions from Vara community college are now accessible on Creativity, check them out here!