During the spring, RealStars has been running an innovation process within the tourism industry. The aim has been to prevent trafficking and prostitution through cooperation. The project was completed on the 29th of April, when a last round table meeting was held to discuss the effort towards a tourism industry free of trafficking.
We had the benefit of having Kajsa Wahlberg visiting, a reporter on human trafficking issues from Rikspolisstyrelsen, who shared some of her work and experiences. Kajsa's visit was much appreciated by everyone. "It is not only the work of the Police, it is everyone's responsibility to work against this" was something that was pointed out by Kajsa.
Mats Paulsson, inspector at the human trafficking group of the Police in Gothenburg, was also there to share his experiences and also informed people about how to tip the Police if they suspect a crime.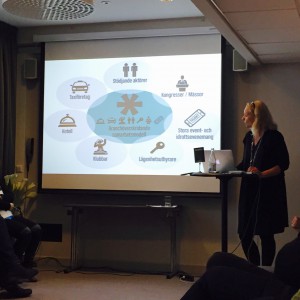 As the round table meetings continued, a fictive case was discussed to highlight how to cooperate before and during a big event in the region to prevent prostitution and human trafficking. Several suggestions were discussed, everything from an app where one could tip the Police to communication campaigns. What appears to be a reoccurring topic in the meetings is that it is important to clarify our Swedish sex trade law that makes it illegal to purchase sex in Sweden. This is a signal to everyone, not only to tourists. RealStars then presented a cooperation model for how the work can be coordinated and more powerful as a continuation of the ongoing pilot study is now supported by Vinnova (see picture).
Below is an example from the round table meeting:
"It should be designed in an as simple way as possible. Phase one is about spreading information about the problem so that everyone becomes aware that the problem exists and impacts different actors. Phase two is about creating knowledge about how to act , and as a concluding part the work is evaluated to investigate how the process can be improved until the next event."
On the 11th of May, a shorter version of "Innovation against trafficking" will be carried out in Stockholm where we invite the Stockholm tourism industry to also take a step towards social responsibility in trafficking issues. We will also share the ideas, tools and cooperation model that we laid the foundation for in Gothenburg. Among the speakers are representatives from Länsstyrelen, the Police Department, RealStars, Svensk Destinationsutveckling and Scandic.