At the end of September Södra Latins High School organised themed study days for students from the Social Studies and Introductory Language programmes. The theme of the study days was the terms on which we have sex.
As well as deepening understanding of Fair Sex – and its opposite, trafficking and prostitution – the activity was aimed at increasing interaction between students from different classes and courses.
Alva Ehn and Elsa Ohlman are respectively the chair and treasurer of the Fair Sex group at the school. These two inspiring young people were the moderators of the panel discussion on September 27th, the first of the two themed days. On the panel (in picture, from left) were Julia Anden from RealStars, Anna Hedh, Social Democrat and MEP, Madeleine Sundell from The Salvation Army and Luis Lineo, spokesperson on security for the Feminist Initiative.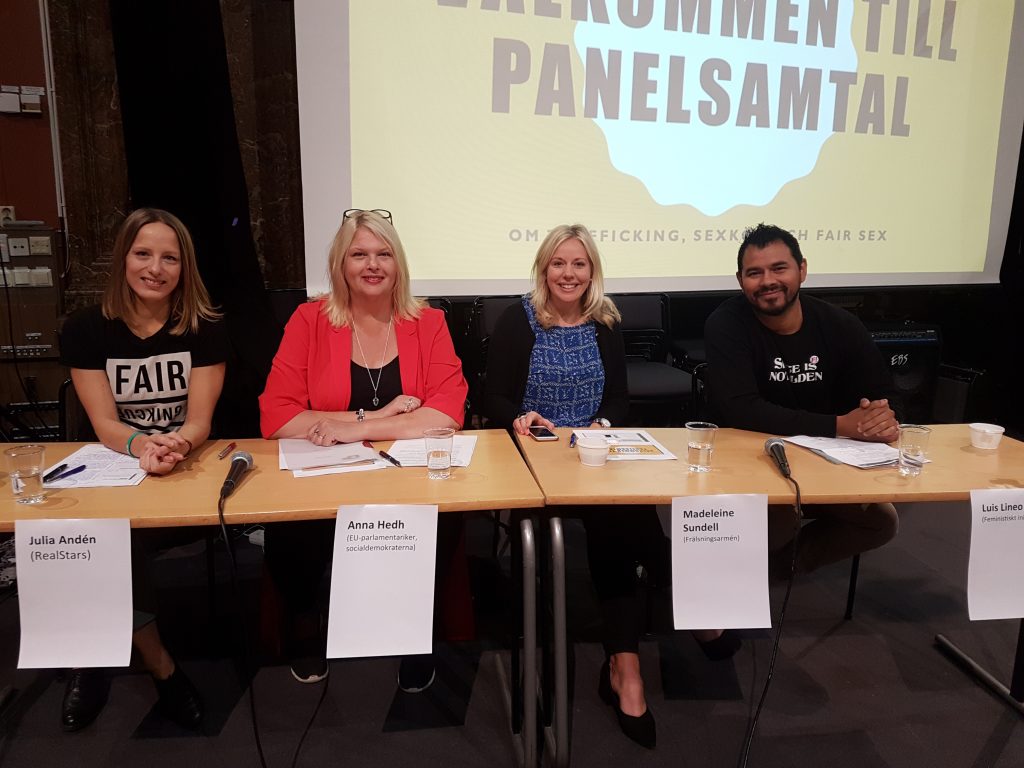 Alva Ehn considers school an important place to work with values and attitudes to prevent sexual offences and harassment before they happen.
"In many ways school is the place where children and young adults form and try out their views and values. That is why it is very important to work on fundamental subjects like fairness and equality while you're in school and Fair Sex is an important part of that. We young people at school are the future and that's why we need to learn about Fair Sex to be able to make our society a place where Fair Sex is the norm."
Elsa Ohlman thinks that the work with RealStars has awakened awareness of the questions among her classmates and at the same time created an interest in doing something about the underlying cause, namely demand.
"Most people know that prostitution and sex-trafficking happen but they don't know the extent of it.  RealStars helps us students to understand how widespread the problem actually is and how we can get involved ourselves and have an influence."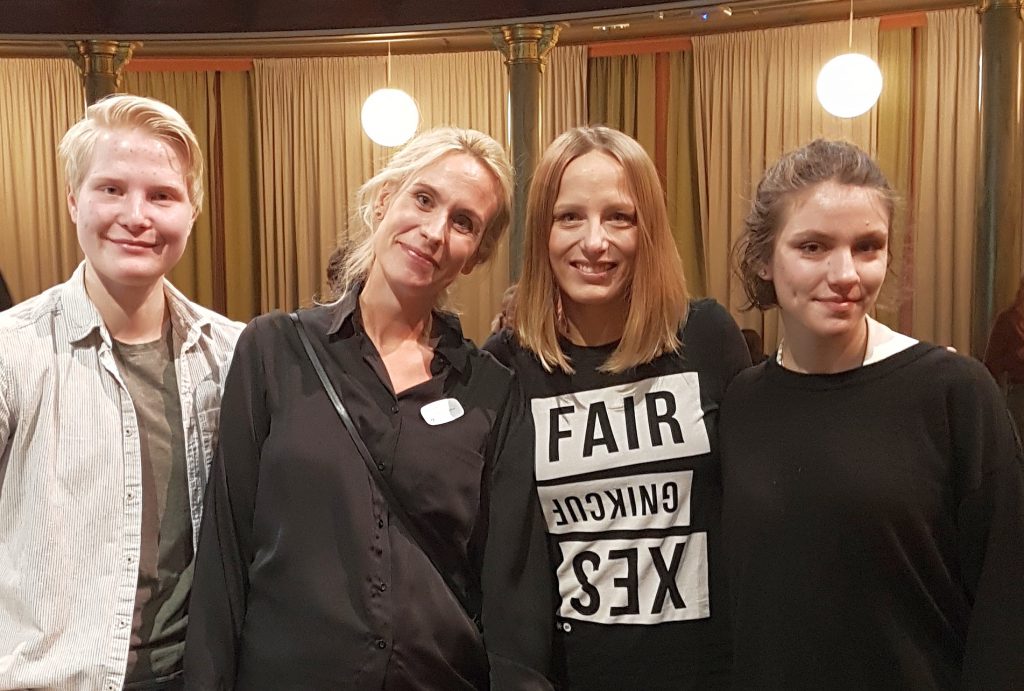 On Day 2 students from the first and second years of the Social Studies programme and the Introductory Language courses were split into mixed groups with the task of creating short information films on the subject of trafficking, prostitution and Fair Sex. Julia and Sudeshna from RealStars were present to give support and were unbelievably impressed by the students' dedication, creativity and ability to work together.
Maria Aspfors is a teacher and a driving force in the work on Fair Sex at Södra Latins high school. She sees a great value in working on Fair Sex for a number of reasons.
"The work around Fair Sex hasn't just been highly educational and important. It has also awakened important thoughts and reflections which in their turn can lead to changed attitudes and norms around prostitution, trafficking and pornography. Our theme-based work has also meant that new bonds of friendship have been created between students on the national programme and the language programme. Thank you, RealStars, for contributing with your knowledge, materials and sources and your fantastic workshops with the students."
The films created are now being looked at by the school and the intention is that in a later phase they can be used in high schools as study materials. What can be better than youngsters spreading knowledge and awareness to other youngsters! That is how we will create more Fair Sex and work to counteract all forms of exploitative unfair sex.