The visits in Västra Götaland continues at a rapid pace. In recent weeks we have accomplished several visits to Marks secondary school, Alströmergymnasiet in Alingsås, Lindholmens Technical Highschool and Katrinelundsgymnasiet. Discussions of how it looks have been intense and many students find it difficult to understand how there can be people who support the commercial sex industry.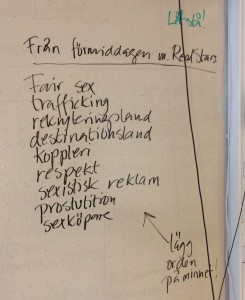 When we visit schools and talk about the situation in Europe and what students can do to stop human trafficking most of them are very excited about doing something.
"There can´t be anyone who wants this to exist?!", a student exclaimed who then promptly signed the petition list.
And certainly, we are also convinced that most people in the world detest slavery, sextrafficking, oppression and other forms of serious abuses on human rights.
But we must also dare to see our own part in this ongoing trade. European buyers of sex operate on trafficking and sextrafficking to Europe. To spread knowledge of how it looks is our way to get young people to understand that this is serious and that this also affects them. And there are many who understand and can relate, as long as someone dare to ask them and inspire them to say how they feel and think.
In the discussions there are often intense debates about what one would do if a partner or a friend had bought sex. Would you find it difficult to respect a friend who bought sex? This question raises the issue that it is sometimes hard to judge the actions of others. "My friend has the right to do what he wants", but at the same time, many raise that we all have a responsibility toward our friends to speak up and say that it is wrong buying sex.
"It is all about what they are doing to the person of whom they buy sex, but also what they do to their girlfriends they might have home?! They have no respect for anyone of those girls, they only think of themselves".
Receiving information about the link between trafficking and prostitution are an important eye-opener for many. This is a prerequisite for understanding your own role and your power to change. To take responsibility for your own actions but also to see your opportunity to influence and spread knowledge on to others is a fundamental part if we want to achieve a society without oppression and discrimination.