On Saturday RealStars participated in Break the Chain, a seminar on prostitution and trafficking at the Museum of World Culture in Gothenburg.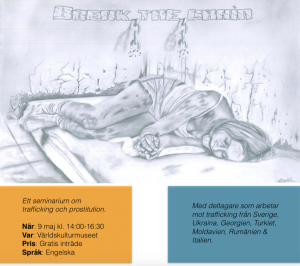 The day began with a guided tour of the exhibition Playground, an exhibition about norms and the right to be yourself. Through collected objects from Sweden and Vietnam, stories of prejudice, gender and love were being told.
Afterwards a lecture by Sofia Jonsson from Gothenburg University was held on the theme "Prostitution and trafficking – legislation, attitudes and criminality" where she presented her latest research in the field. An interesting lecture on how, among other things, attitudes and stance with regard to prostitution are connected to the legislation of the country. In a bar chart we saw how that clearly differs between countries. We look forward to the results of her ongoing projects.
Then it was time for mingling with participants and other organizations. One aim of the day was to create an arena for organizations in the same field to meet and establish contacts. This they really succeeded with. RealStars left the Museum of World Culture happy and satisfied, with both new friends and possible joint projects in the future. There were many people to talk to so the time for mingling passed quickly. This meant that no pictures were taken, but we present some from the exhibition and from the lecture.