Réal Laplaine writes fiction books that have a moral, warm and human tone. His latest book SEE ME NOT is a little gem, a unique book about a twelve-year-old girl's fate as a sex slave in India. The book, while touching and engaging, also gives a fresh note amongst all the heavy books covering this subject. As always, when I read about sex trafficking, it raises a strong feeling of disgust that people are treated so badly. But in this book that sense of frustration is replaced with hope and confidence in what a single person can do through courage and determination.
How did the idea come about for the book?

– The original idea came to me when I lived in Los Angeles. I had a friend who worked as a volunteer in an organization in Calcutta, and she sent me pictures of a six year old girl living on the streets and who was also taking care of her one-year-old brother. It really touched me because these abandoned street-children often became drug addicts, prostitutes or criminals. I did research and was shocked to find how much prostitution existed in India and elsewhere in the world – and this eventually lead me to research the subject of human trafficking. As a result, I wanted to help by writing a book. I have great empathy for children, having myself experienced some difficult times in my childhood.
Is it entirely fiction?
– Not entirely. There is a lot of research built into the plot – the rest fictional. The scenario depicted in the book is however, very real and far from any stretch of the imagination. For instance, I helped that organization in India so that six-year girl was given clothes, food and some education to help rescue her from a bad fate, such as child prostitution – but there are so many more in that same situation. In writing the story, I tried to envision what could be done to help a twelve-year-old trapped in the sex-slave industry, and what could one American along with one Indian policeman actually do to change this girl's circumstances. In this story, the twelve-year-old girl, Hann'sha, sees an opportunity to get out of the situation and she also decides to save the other children who are being trafficked; it's an exciting part of the book and it shows something about human character.
What do we do to change and stop sex trafficking?
– We need to create channels for people to easily be able to do something – such as reporting about the issue and getting controls put in place to outlaw this criminal activity. This makes Real Stars a real benefit with its petitions to the EU. We have to create awareness of the problem at different levels. It takes time and it is a difficult subject to talk about as it is hard to conceive that today there are hundreds of thousands, if not millions of people being kept as actual slaves, and trafficked for billions of dollars in profit. For example, if countries put pressure on places where trafficking is not policed, or an embargo similar to that placed on South Africa to force that nation to stop Apartheid, I believe we would see changes in several countries. Children are being exploited as sex slaves and these are serious violations of human rights – and it is happening in many places.
In the book we follow the story of what a person can do, such as using blogs and the internet to create awareness and commitment to helping Hann'sha. How is it that you believe in the individual's inherent power so strongly?
– I have lived through various circumstances which have occurred in my life where I have been confronted with situations where I had to do something to save other people's lives or to prevent violence on them. I didn't close my eyes or say to myself "that is someone else's responsibility to deal with" or "that is too dangerous for me" – instead, I acted.
What was the challenge of the book?
– Although the subject of human trafficking is a terrible one, I wanted to tell a short, simple and heartfelt story about hope – rather than the horror of sexual slavery. I wanted to focus on what people could DO about the situation, rather than exploiting the tragedy of sexual slavery. I think it is important that the story conveys the truth about human trafficking, as well as making it interesting and compelling so that people see solutions to the problem. It is my hope that millions of people will read the book and that awareness on a global scale, will be increased.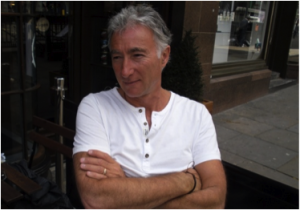 Réal Laplaine born and raised in Canada – but then moved to America where he spent over thirty years working professionally as a recruiter and in leadership positions. He has led an exciting life (so far) with many adventures under his belt. He started to develop his writing skills during his work and while travelling around America and abroad; and only in the last two years since coming to Sweden has he officially launched his career as a writer. He has published four books; SEE ME NOT is his latest. He lives in Gothenburg with his wife and their two cats. Mor info here.
Malin Roux för RealStars