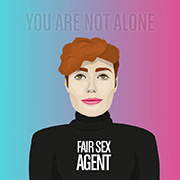 RealStars has become known as an organisation which actively works against trafficking and sexual abuse with the message of Fair Sex. We are now looking for creative people to draw illustrations for our Instagram account KimRealstars, which is a part of our Fair Sex Online project.
The project has Instagram as one of its platforms and its objective is to tackle sexual violations on the Internet, which are increasing and becoming more severe according to experts.
We want to reach out as widely as possible, and we know that pictures can help in engaging more people and get them to act and speak for Fair Sex online. Through the contributions from such Fair Sex advocates, we can raise awareness about sexual violations online, mitigate and prevent abuse, and spread the word about Fair Sex and sex on equal terms also in the online world.
The first comic strip, six pictures, will be connected to Valentine's Day. We will obviously acknowledge your contribution and you'll receive one of our "Fair Fucking Sex" t-shirt as a thank you.
At the moment we have Kim, RealStars' own Fair Sex agent, wandering the Internet to spread the values of sex on equal terms and to interfere when encountering sexual violations. RealStars has for several years worked to stop sex trafficking and to further equality as well as to bring about a law on buying sex services for the whole EU. With our Fair Sex Online initiative, we are taking on the fight against sex trafficking and sexual abuse which frequently takes place via Internet and mobile phones.
Read more about Fair Sex Online here: www.fairsexonline.se
Follow Kim on Instagram Facebook and Twitter
Contact our project leader Patrik Strömberg to register your interest:  patrik(a)realstars.eu