The school tour in Västra Götaland steams on. The last few weeks we have visited Hulebäck's High School in Härryda, Drottning Blankas High School in Falkenberg, Marks High School and several schools in Gothenburg. In all of them discussions have been intense and the questions many.
For us, the participation of the students during the school visits is essential. Everything we do is based on that the students feel involved and needed in the fight against trafficking which requires knowledge. With knowledge we can make active choices and formulate opinions.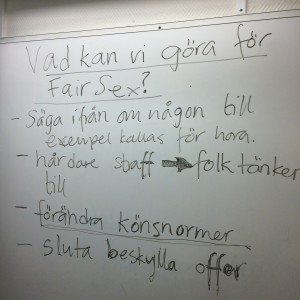 It's incredibly enjoyable to see how fast the students we meet comes up with ideas, suggestions and activities in the work for Fair Sex – against trafficking. During the visits they often get to discuss this in small groups.
How can we make our school more Fair Sex – that sex on equal terms applies to all?
What can we do to stop trafficking?
We encourage the students to think about what they can do to prevent trafficking. Most people find it is easier to talk about what others can do. What can teachers do? What can the police do? What can the government do? But in fact, we can all do something.
Here are five tips from students we met that everyone can do.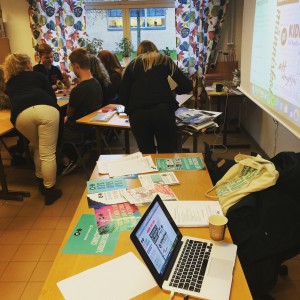 1) Sign the petition. On December 10th (International day for Human Rights) every year. RealStars send the names on the petition to all Ministers of Justice of every EU member country. Show them what you think here!
2) Spread information on the situation of trafficking victims who lives in prostitution. Click here to read more, or send an e-mail if you want to know something more specific: anna@realstars.eu
3) Do not expose other people to degrading treatment, for example, do not use derogatory words, grope or the like.
4) Stop blaming the victim. Actively do not focus on what a victim of trafficking or other forms of sexual abuse could have done differently to avoid being exposed. Instead, it is important in all situations and discussions about responsibility to focus on the perpetrator.
5) Do not buy sex.
Follow the example of the students we meet: spread these five tips to everyone you know! You are needed in the fight for a Europe free from trafficking.