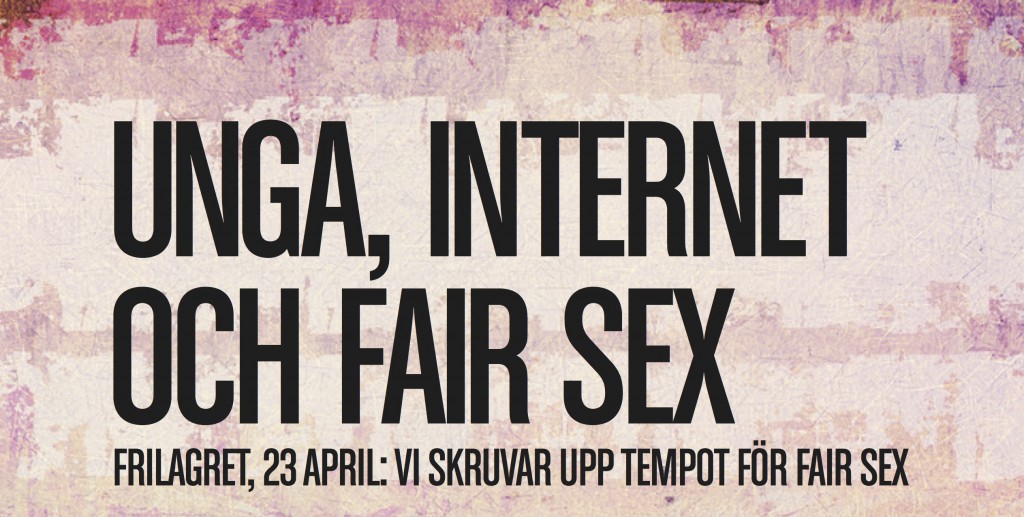 April 23rd between 4 – 6.30 PM, RealStars have planned a packed agenda at Frilagret in Gothenburg. The theme of the event is Young People, The Internet, and Fair Sex. The afternoon will be offering panel talks, live music and an art show. Everything is free and open to everyone interested. Welcome!
In the world, trafficking is increasing and there have been reports on young Swedish people that sell sex. These are two highly current topics that can easily be linked with how our attitudes regarding sex and the Internet as an anonymous arena affect us. On the Internet we experience everything from sexual harassment to escort homepages.
RealStars invite to an engaging afternoon with talks, mingle and music. You will also get the chance to partake in an art show made by young people that created for Fair Sex – sex on equal terms – and against trafficking. Open for all and free of charge.
ON THE AGENDA:
-Partake in the web game Fair Sex: TheNetwork – an interactive web game regarding trafficking, human rights and abuse.
– What did we learn from the Instagram goal? Meet the people who were there.
– Trafficking in Sweden, the Internet as an arena. Caroline Engvall, author of "14 år till salu" and more recently published "Virtuell Våldtäkt".
– How do we work to strengthen young people and reduce sexual assault through the Internet?
AMONG PARTICIPATORS: Lisa Björklund, ATSUB, Caroline Engvall, writer, Malin Roux Johansson, Realstars, Sarah Males, The Project: En skola för alla, Lotta Krus, former principal at Plusgymnasiet Göteborg, Anna Thomasson, chairman of Fatta, Helle Lyrstrand Larssen, journalist, Jeanette Rahbe, coordinator of Tjejjouren Väst, Birgitta Dellenhed, Director of Ungdomsutredningen, and students from Öckerö seglande Gymnasium.
ARTIST: Fanny de Aguiar, famous from Swedish Idol.
Volunteers from Kvinna till Kvinna will be there.
DAY: Thursday April 23rd TIME: 4 PM-6.30 PM
WHERE: Frilagret, Heurlins plats 1A, Göteborg. The place is available.
MODERATOR: Pernilla Hilmgren Larsson, Journalist
PLEASE SIGN ON TO: Anna Lindeborg on e-mail: anna@realstars.eu